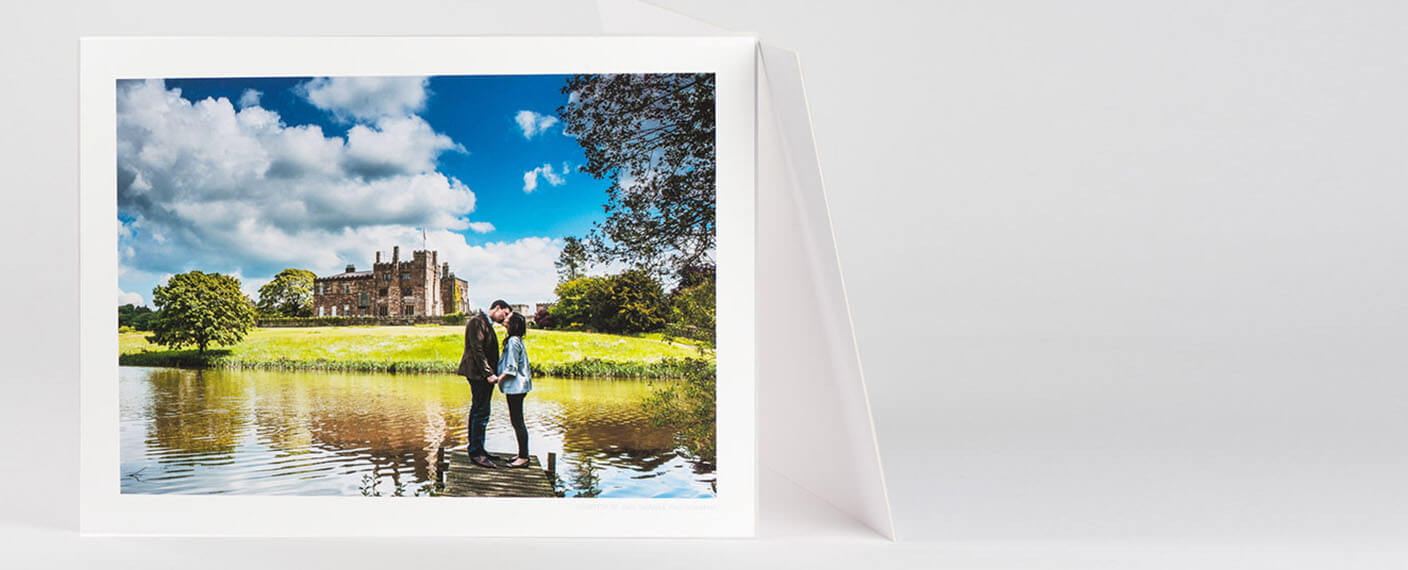 Board Mounted Prints
Professional board mounted prints on 2mm quality archival card & supplied with velcro pads. A variety of sizes & photo papers available.
Order Your Board Mounted Prints
From : £ 7.20
Visit The Photo Lab
Overview
Professional photo mounting displays your work in a captivating, contemporary and minimalist way. A perfect way to create impact when displaying work at events and exhibitions. The process of archival art mounting involves fixing your artwork using a dry, non-corrosive sheet of glue to a substrate or backing. This enables your print to sit flat either directly on to a wall or in a frame.

Made from 100% virgin fibre, with a 2mm thickness, board mounted prints are an exceptionally light and cost-effective mount for creating a beautiful flat print prior to framing. The board has a slightly textured surface area and is acid free, so you can rest assured they will maintain their colour and captivating quality over a vast period of time. Caution should be made when fixing them to walls and during transportation due to their slight flexibility in comparison to other mount options.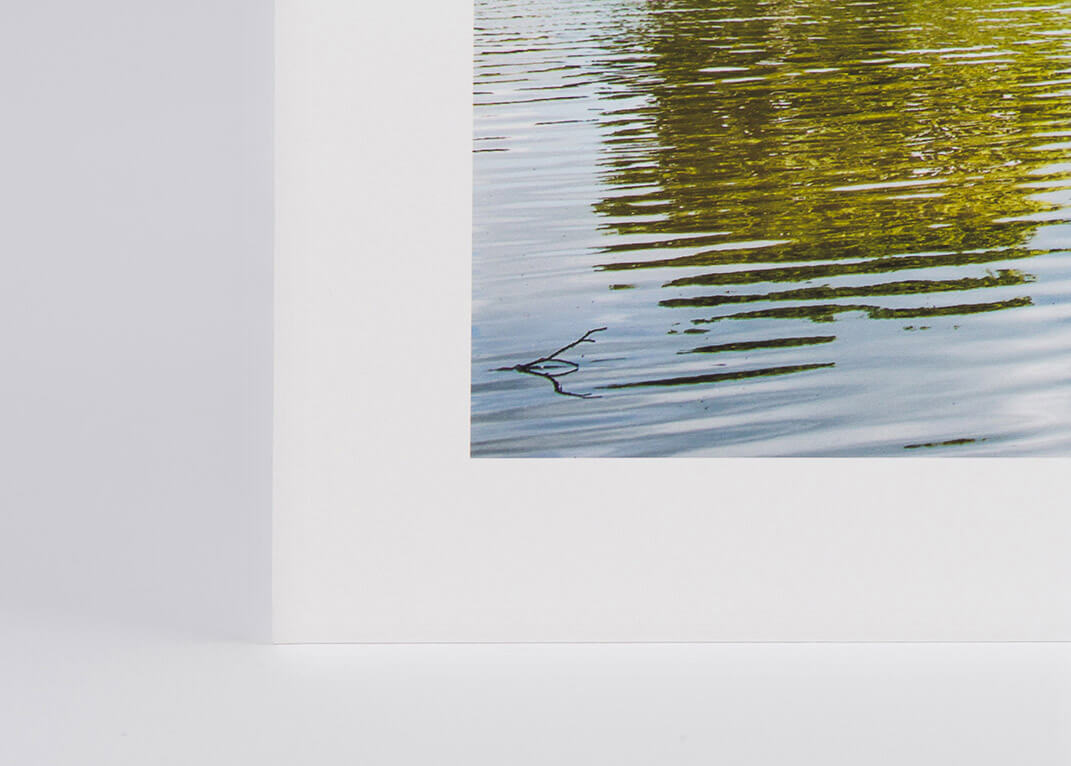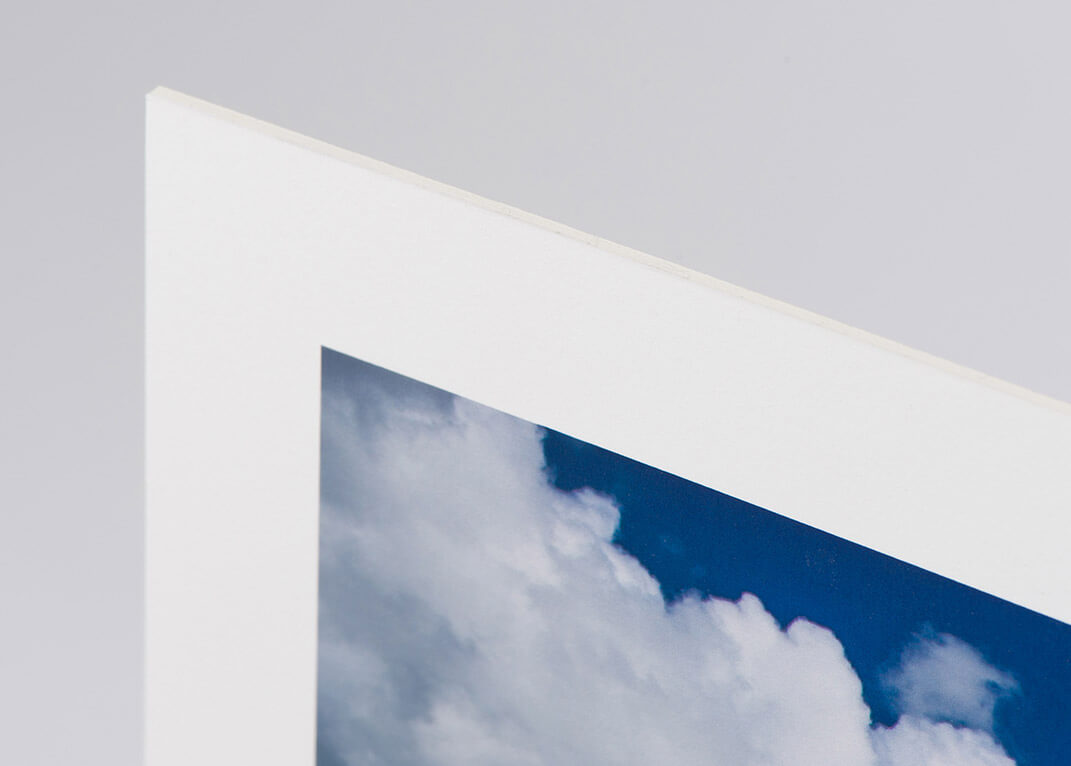 Product Video of our Board Mounted Prints
Watch our video below about our board mounted prints to see them in much more detail with their highlights summarised. Please note on mobile devices, these videos will take a few seconds to load and play.
Paper Options for Board Mounted Prints
Our professional photo mounting is available in a variety of paper options, please read below for more information on each of them, each has its own natural characteristic to suit your style of photography.
Paper Sample Pack
Unsure which paper would best complement your image? We offer a paper sample pack available to add to any order, or to order by itself so you can see our fantastic range of papers and finishes to choose from. This includes the standard photographic matt or gloss options, as well as our entire range of fine art papers such as Photo Reg, German Etching and many more for only £2.50. Add basket now.


Laminating Board Mounted Prints
Laminating your board mounted print ensures your print is protected from scratches, fingerprints and UV rays. Laminate is a protective film that is applied on to your print, available in both Satin and High Gloss:

- Satin Laminate - Our most popular seal, is a durable lamination with a semi-matt surface
- High Gloss Laminate - A very high clarity laminate with a gloss surface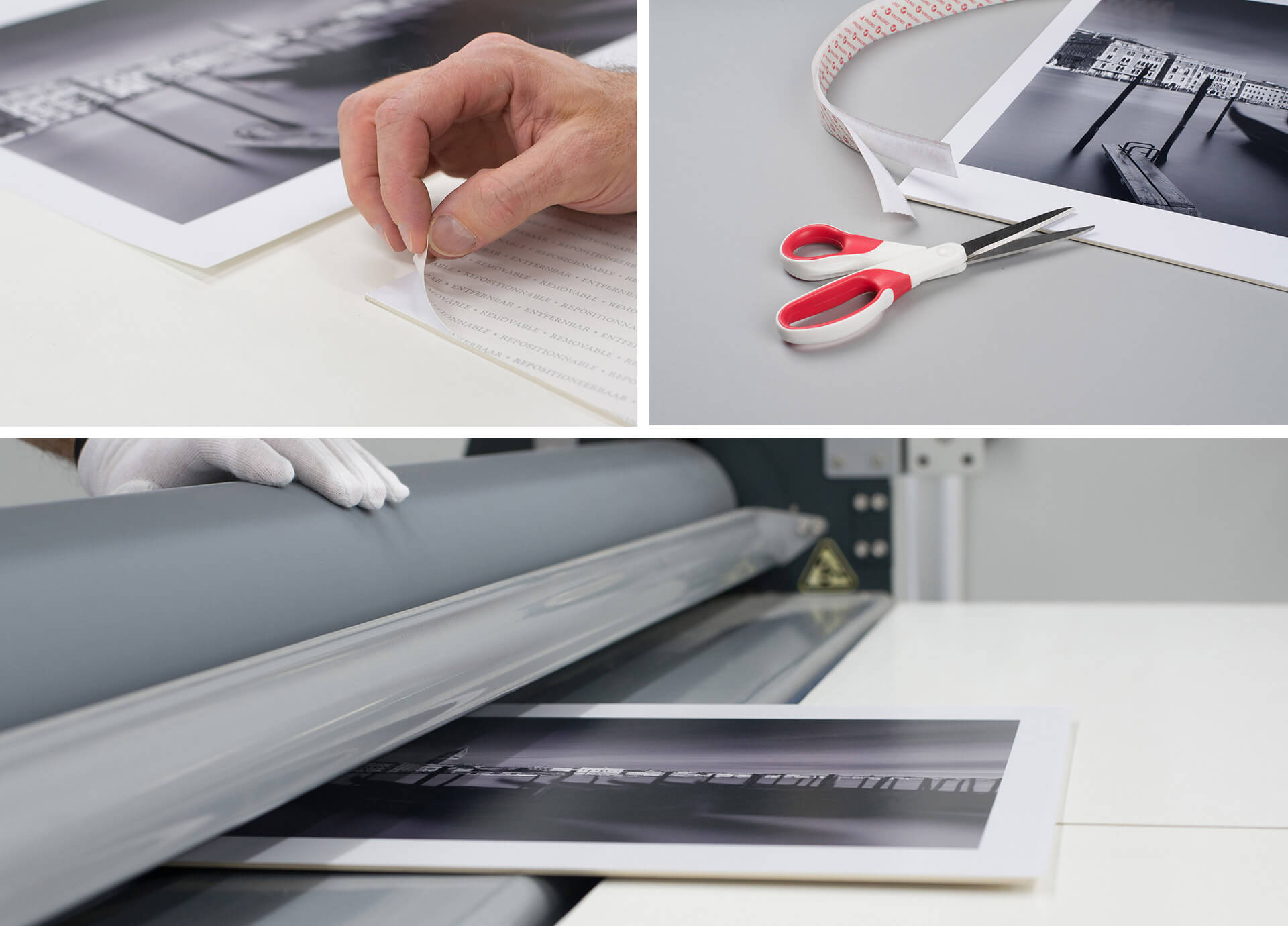 Product Options
Our board mounted prints are available in standard, square and panoramic sizes ranging from 10 x 8 inches to an impressive 60 x 40 inches, as listed in the table below. Once you've chosen your desired product and size, use our online ordering system and your board mounted print will be with you in no time.
Wall Fixing
All board mounted prints are supplied with velcro pads which are popular for a quick and simple solution to fixing your lighter weight prints onto a wall for exhibitions. For a completely flat finish, we recommend framing these board mounted prints due to their lack of complete rigidity.
Bespoke Board Mounted prints
If you'd like to order a bespoke, custom sized board mounted print, please contact our professional photo mounting team who will be happy to assist you +44 (0) 1707 273747 / [email protected]
Production and Delivery Time
Design, crop and visualise your mount board using our superb online ordering system. Our professional photo mounting service means board mounted prints are dispatched within a maximum of 3 working days. All products are secured in top quality, robust packaging to ensure they arrive to you safely. Once you've placed your order, you'll be able to track your order with our automated email delivery updates.
How to Supply your Board Mounted Prints
Making sure your file is in tip top shape is essential, ensure the resolution, file size and dimensions of your image are correct before adding them to your basket. For best results, please pre-size your files to the correct aspect ratio, the correct output size required at 300 DPI and in sRGB colour space, before uploading.

For further guidance head to the Supplying Files help page or call our customer service team on +44 (0) 1707 273747.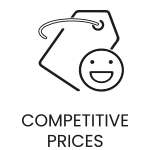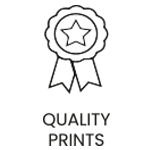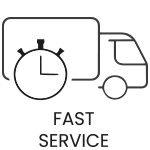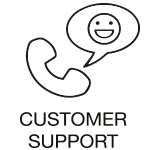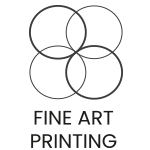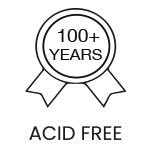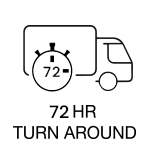 Sizes & Prices
See our size and price guide below. If you can't see the perfect size for you, simply get in touch with our friendly customer support team to see how we can help.
Standard Prints
Size (Inches)
Size (mm)
Lustre / Gloss Mount
Fine Art Papers
Satin / Gloss Lamination
10 x 8
254 x 203
£7.92
+ £1.98
+ £4.40
12 x 8
305 x 203
£8.69
+ £2.31
+ £4.95
12 x 10
305 x 254
£10.56
+ £2.64
+ £6.60
14 x 10
356 x 254
£12.98
+ £2.97
+ £7.70
16 x 12
406 x 305
£12.98
+ £2.97
+ £7.70
18 x 12
457 x 305
£14.30
+ £4.40
+ £7.70
20 x 16
508 x 406
£20.57
+ £5.28
+ £9.90
24 x 16
610 x 406
£22.11
+ £5.94
+ £9.90
24 x 20
610 x 508
£26.62
+ £6.93
+ £12.10
30 x 20
762 x 508
£32.78
+ £7.92
+ £18.70
36 x 24
914 x 610
£44.11
+ £10.89
+ £22.00
40 x 30
1016 x 762
£54.23
+ £14.52
+ £27.50
60 x 40
1524 x 1016
£111.76
+ £29.04
+ £55.00
A5
210 x 149
£6.05
+ £1.65
+ £3.30
A4
297 x 210
£9.46
+ £2.64
+ £4.40
A3
420 x 297
£14.30
+ £3.30
+ £7.70
A2
594 x 420
£21.34
+ £5.61
+ £9.90
A1
840 x 594
£41.03
+ £9.57
+ £22.00
Square Mounts
Size (Inches)
Size (mm)
Lustre / Gloss Mount
Fine Art Papers
Satin / Gloss Lamination
10 x 10
254 x 254
£9.46
+ £2.64
+ £4.40
12 x 12
305 x 305
£11.33
+ £2.97
+ £6.60
14 x 14
356 x 356
£13.75
+ £3.30
+ £7.70
16 x 16
406 x 406
£15.07
+ £3.63
+ £7.70
20 x 20
508 x 508
£25.63
+ £5.61
+ £9.90
24 x 24
610 x 610
£32.45
+ £8.25
+ £15.40
30 x 30
762 x 762
£44.88
+ £11.22
+ £22.00
40 x 40
1016 x 1016
£73.15
+ £19.80
+ £33.00
Panoramic Mounts
Size (Inches)
Size (mm)
Lustre / Gloss Mount
Fine Art Papers
Satin / Gloss Lamination
20 x 10
508 x 254
£15.07
+ £3.63
+ £7.70
30 x 10
762 x 254
£19.03
+ £4.62
+ £9.90
40 x 20
1016 x 508
£42.57
+ £10.23
+ £27.50
PRICES ARE EXCLUSIVE OF VAT