FAQ
Frequently Asked Questions
Sim Lab offers the best professional photo printing service in the UK. We have a wide range of different photo supplies and photo lab products to suit every professional photographers needs and have an excellent team on hand to help. Please find our most frequently asked questions about our service, products and photo supplies listed below. If you can't find the answer to what you're looking for please feel free to pop us an email or give us a call. Our email is [email protected] and our number is 01707 273 747.
Placing Orders
Can I change the details of my order once it has been placed?
It is not possible to change the details of your order once it has been placed. The only exception to this is the delivery address, which can be changed if your order has not yet been sent. To change this, please contact Sim Lab via email at
[email protected]
or call 01707 273 747.
Which web browser should I use to upload my orders?
We recommend Firefox or Chrome. Available for both Mac & PC.
What can I do if I need to add more files to an order I have already placed?
Unfortunately we are unable to add more files to an existing order as the files need to be processed through the website. Therefore the files would need to be placed into a new order. If your original order has not been dispatched yet, you can select the 'pick-up in store' option on your new order to avoid the extra delivery charge and request that we pack the new order with the original order.
Just make sure that you pop a note in the comment section with your original order number so that we can find this for you and call us to confirm. Typically we are able to do this for our customers but please bear in mind that at particularly busy or peak times such as Christmas we are unable to guarantee that we can pair orders together.
Technical Information
What file format should I upload?
The ideal file format for your individual photo prints must be sized to the exact print size being ordered. For example, if you require a 7"x5" print the file should be sized exactly to 7"x5". Failure to do so may result in unintentional cropping of the image. For optimum print results please make sure that your image has an embedded sGRB colour profile rather than a tagged colour profile.
The correct colour profile is sRGB to get an accurate colour result in print with a 300 dpi resolution. The files should also be uploaded to us in JPEG format at a quality of 8 or higher. If you are unsure please visit our dedicated 'Preparing your Files' page on our website. However, if you are unsure then please get in touch via phone or email as we are always happy to help.
How do I order custom print sizes?
If you can't find the size print you are looking for this would be considered a bespoke size print. To order this you should find the next larger print size that is available. For example, if you require a 9"x9" image you should order a 10"x10" print. You will need to place the image on a canvas in Photoshop that is the same size as the print you are ordering. You should create a 10"x10" canvas and set your image size as 9"x9".
You should leave a comment in the note section when ordering requesting us to trim your print to size. Please note standard photo prints will not be able to trimmed within the lab, but they can be trimmed once they are delivered to you. We are able to trim our large photo prints and giclee fine art prints within the lab as these are individually processed before print. If you are ordering a custom size, please include the desired final size and any instructions in your order comments and / or give us a call with your order number.
If I have text or key lines close to the edges will this be included on the print?
All printers require a surrounding bleed area of 3-5mm on every edge. If your text or key lines are in the outer bleed area then there is a chance that this will be cropped from the print. We would recommend having any text or important subjects at least 5mm away from every edge of the file. Slightly thicker borders are always best on smaller prints as very thin borders optically draw the eye if they are ever so slightly uneven.
What type of paper and surfaces do you print on?
We offer a quick and efficient professional photo printing service and all of your prints are processed digitally directly from the files we receive through our website. Our standard prints are created using C-type Fujifilm paper with a finish of Lustre, Gloss or Metallic. We have a range of fine art paper types including Giclee Fotospeed Lustre or Gloss and Fine Art Metallic. We also offer a range of Hahnemuhle papers under our fine art print service including Photorag, German Etching and Baryta.
Do you offer any Photoshop adjustments or a colour correction service?
Unfortunately we do not offer any Photoshop adjustments or colour correction services. As we offer a professional photo printing service, we will print the file exactly as we have received them through the website. The colour and quality management of any image is your responsibility so please ensure that all files are in the correct colour profile (sRGB IEC61966-2.1).
Do you offer custom Canvas prints?
Yes we do offer a range of custom Canvas prints. To find out if we have the size that you are looking for please pop us an email to
[email protected]
with the bespoke measurements required and we can then confirm whether this custom canvas size is possible. Our premium stretcher bars are only available in even derivatives of inches so this will need to be considered when requesting your size.
Turnaround Times & Packaging
How quickly will I receive my prints or other products?
Our standard professional photo prints have a production time of 1 working day. If you place and upload your order before 1pm, Monday to Friday then they will be printed and dispatched the very same day. While we are usually exceptional on our turnaround times, this is a timeframe we endeavour to stick to but unfortunately not a guarantee of how long an order may take, especially during peak times. Where delay is caused by a factor beyond our reasonable control, we will not be responsible for any loss suffered but will always do our best to assist customers where possible.

Our large photo prints and giclee fine art prints have a production time of 2 working days. Our mounted prints and wrapped canvases have a production time of 3 working days. If the order is placed before 1pm this would be considered the first working day. When an order containing two products that have different production times is placed, the overall production time will be the longer of the two. The order will be dispatched only when all components are complete.


How will my prints, canvas wraps and mounted prints be packaged?
Any photo print smaller than 20" will be sent flat in a cardboard envelope or box with protective rigid packaging. All photo prints larger than and including 20" prints will be sent in purpose made print tubes dependant on the size and quantity of the prints ordered. Wrapped canvases and mounted prints are packaged in bespoke size corrugated cardboard boxes with protective corners and individual wrapping to ensure they arrive safely.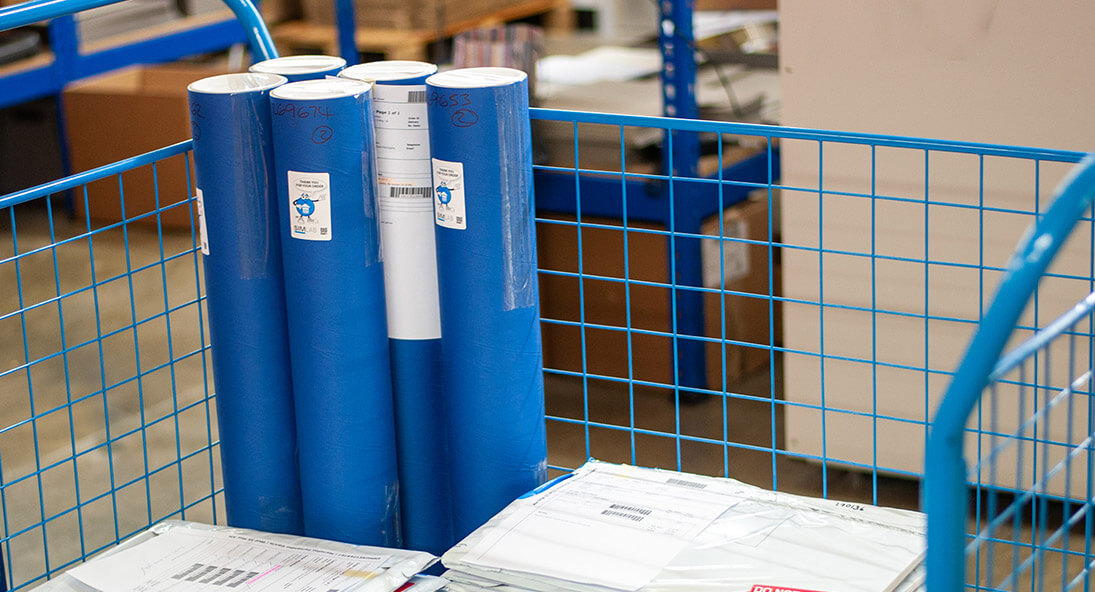 My Account
Where can I find my invoices?
Your confirmation email is the invoice for your order. This will contain any necessary VAT and company information for you to use for your tax or records. When sending an order directly to a client, always ensure to input your own email address so the invoice will be sent directly to you. We do not include any paper invoices, so please ensure to keep a copy of your confirmation email for your records either in a saved or printed format ready for your yearly accounts.


Can I send my order direct to my client?
Yes of course. Sim Lab offers a fully white label service as standard which can be delivered directly to your customer. Simply input your clients delivery address at the checkout and we'll print, package and deliver the order direct to them so you can save on your overall postage costs. We never include paper invoices in any of our parcels, just ensure you include your own email address at the checkout, as your confirmation email will be your order invoice.
Returns & Issues
What happens if my prints don't arrive?
If after 3 working days your order doesn't arrive please get in touch. If the parcel has been confirmed lost with the couriers we will re-print and dispatch your order free of charge. We will always do our best to endeavour to resolve any problems or queries as quickly as possible to ensure your ordering experience is smooth and hassle free.
What happens if my photo prints are damaged in transit?
In the unlikely event that your photo prints do get damaged then please notify us within 3 working days so we can investigate the issue and contact the couriers. Please notify us by emailing
[email protected]
quoting your SMMGNET ID which can be found in your confirmation email. You should also attach a couple of images of the damaged products and / or packaging and we will respond with a resolution.
What if I have not received my confirmation email?
If you do not receive a confirmation email this may indicate that your order hasn't been uploaded or come through to us. Please check your email program as it may have mistakenly classified it as spam so your confirmation email could be in your junk folder. However, if you are unsure please give us a call or email
[email protected]
and we can confirm if your order is live and resend your confirmation for you.
I'm not happy with my order will you refund me?
If you are not completely happy with your order we would be happy to receive the order back and investigate this further for you. Should you wish to return the order to us, our return address is listed below:
Unit 8,
The I O Centre,
Hearleway,
Hatfield
AL10 9EW
Delivery & Shipping
What are the delivery costs for UK Mainland?
We offer a professional online photo printing service with next working day delivery. All standard print orders are delivered by our DPD dedicated courier service so once dispatched, your parcel should be delivered the next working day. The cost for standard photo print delivery is £5.95 + VAT and all standard deliveries are advised to be Monday - Friday between 9am – 6pm with regular delivery time slots updates via text or email.

We do offer timed deliveries and a saturday service as an upgrade at the checkout, please see our dedicated shipping page for more details. For any larger mounting and laminating orders bigger than 20x16" the delivery cost is £10.50 + VAT and will be dispatched via APC who offer a dedicated fragile service.


Do I need to sign for my parcel?
Yes, all parcels need to be signed for by somebody at your delivery address. If you know that you might not be in during delivery you can pop a note in the comment section when placing the order requesting the parcel to be left in a safe place or with a neighbour. You can also update your parcel via the DPD website, app or text with instructions to leave in a safe place or with a neighbour.


What if my parcel is delayed?
We work very closely with our local DPD representatives who are great at helping us find out more information about your parcel. If you are concerned, please get in touch and we can investigate this further for you and try to resolve any issues. Please bear in mind that whilst every step is taken by both us and our courier service to ensure next working day delivery, this service is not guaranteed. Sim Lab cannot be held liable for any consequential losses incurred where deliveries are delayed.


Shipping costs:
UK Mainland £5.95 (Next working day)
Southern Ireland £11.50*(Two working days)
Northern Ireland £13*(Two working days)
Scottish Islands – Highlands £14*(Two working days)
UK – Channel Islands, Isle of Wight, Isle of Man £14*(Two working days)


Canvas Wraps & Mounted Prints
UK Mainland £10.50 (Next working day)
Southern Ireland £11.50 (Two working days)
Northern Ireland £13 (Two working days)
Scottish Islands – Highlands £14 (Two working days)

UK – Channel Islands, Isle of Wight, Isle of Man £14 (Two working days)


Do you deliver outside of UK and Ireland?
We do offer a mainland europe delivery option at the checkout which is calculated based on the delivery address and parcel weight. The majority of our orders are dispatched to the UK and Ireland but if you have a query regarding a specific delivery address please send us an email with the destination so we can see whether this is possible for you.
Contact & Opening Times
What are your opening hours?
We are open Monday to Friday between 8:30am and 5:30pm. Please feel free to collect any orders from our reception between these times. Our customer support team is also available Monday to Friday from 8:30am to 5:30pm for telephone enquiries and emails, our phone number is 01707 273 747 and the email for Sim Lab is
[email protected]
We are always more than happy to help with any photo printing queries or if you would just like to discuss the professional photo lab products that we have available.
Environment
Are you Environmentally friendly?
As a growing professional printing company, it is our aim to work with responsible suppliers who are actively reducing their waste and CO2 emissions and offer more environmentally friendly products. The FSC (Forest Stewardship Council) is an independent body advocating the responsible management of the planet's forests. All of SIM Group photo prints are printed on FSC certified paper, meaning we meet the council's strict requirements for responsible and sustainable printing. You can therefore purchase our products knowing that you're doing right by the environment. See our Eco Policy for more information about how we try to protect the planet.




What do you use for your packaging?
Sim Lab's packaging cartons are made from a minimum of 75% recycled material and are fully recyclable. We also recycle any cardboard packaging we receive in deliveries by flattening and shredding the boxes to then be reused as space fillers in our parcels for dispatch.